My journey started with a flight from Cologne in Germany to Bangkok. Bangkok is as you can see the central mega city in south-east asia. There are direct flights to any of the surrounding countries. Just Kuala Lumpur and Singapoore offer similar orportunities.
When I arrived in Bangkok I was totally crushed by the heat. I've been to Costa Rica before and Bangkok is even warmer. I was lucky and met a german girl in the plain (she was sitting right next to me), so I didn't have to search the hostel alone. I stayed at Yodsiam Hostel, a place which I can highly recommend. It's close to the river and in this heat there's nothing better than driving with the boat and getting fresh fruitshackes at the peers. In addition it is very central so you can easily walk (approx. 15-20 min) to Khao San Road if you wanna party. It is located above the Yodpimam Flower Market, which is a good photo location too.
At the first day i didn't want to waste my short time in sout-east asia, so I went to the Grand Palace with a german guy from the hostel. But It was way to crowdy for me there and it was too hot so we decided to try some of the delicious street food, get out of our sweaty cloth and relax. In the evening we went to Khao San Road and to a Blues Bar in one of the million sideways.
On the next day I went to Wat Pho. This place is famous for it's huge Buddah statues. Later I heard it is also known for one of the best thai-massage places. Many people even in Bangkok havn't spoken to a foreigner yet, so they're quiet nervous and excited at the same time when you ask somebody for help. The english classes in opposite are told to approach you to practicet there english and get rid of the nervousness. At Wat Pho I met a group of thai girls from such an english class, a group from Croatia and i approached some monks and asked them if i can take a picture. Most of the time I was photographing but the light during the time I stayed in Bangkok was horrible. I havn't seen a single cloud, propably in reason of the smock.
I went back to the hostel relaxed. In the evening I met with some guys I knew from there. We went for dinner in a rooftop bar at a medium-level house by the river. Later I left to go to the Festival for the King (a hint from the hostel) at Sanam Luang. There I saw a lady boy show. On the way I photographed Wat Arun from the opposite site at the river and had a beer at a bar there. (Tripods are often forbidden in Bangkok, but don't forget, you can use any flat ground instead)
At the third day I met a thai girl I know from Aachen. We met a Lumphini parc and went for breakfast, which was the only western meal I had during the entire trip, but just because she wanted to go there ;-). After this we went through other parts of the city. I was impressed how the locals use subway station, huge shopping malls and other places with air conditioning to never do a step into the heat. After some shopping (like a strong mosqito spray which you can't buy in europe), we went to a hai massage. In the evening to some rooftop bar. Sadly the highest level was closed for a party. On the level below there were man-high dirty glass plates and tripods were forbidden too. This is the best shot which when I remember correctly my friend did.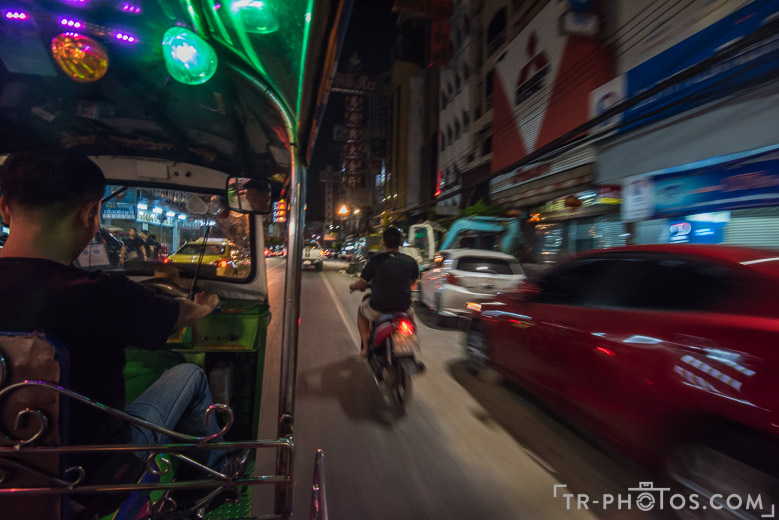 Khlong Lat Floating Market
At the fourth day we drove to the Khlong Lat Floating Market. The day was fantastic but due to the narrowness of the market it was hard to make shuts I am able to show to the public without violating law of one's own image. Both images below were asked in thai by my friend from Aachen.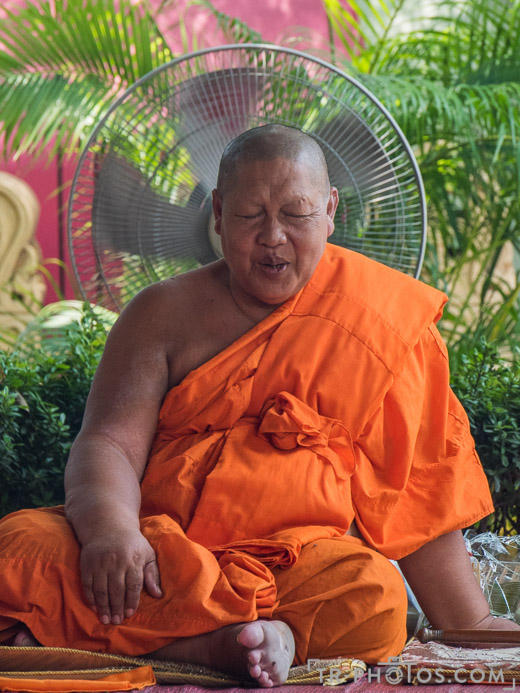 In the next morning I wanted to take a bus to Siem Reap. But first I lost a lot of time while waiting for a 5 a.m. boat which didn't excist, than I didn't find the real bus terminal which lies hidden behind a market.
To conclude with the time in Bangkok. There was no place where the food was so various and cheap. If I walked back to hostel in the evenig and all those smells of the food around you from the night markets came to my nose I was not able to pass by.